Why Concrete Driveways?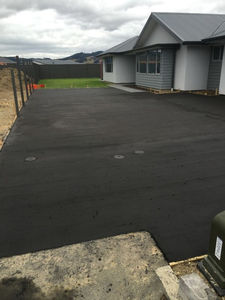 Concrete is an excellent driveway material. It is versatile, preferred for durability, appearance, low maintenance, and indicates quality construction from the first glance. A concrete driveway does it all.
Most homeowners take great pride in the exterior of their home. The concrete driveway has become an essential part of a landscaping plan that imparts an inviting image. Concrete's wide variety of texture, color, or patterns has elevated the driveway to the status of a landscape design element…meeting today's homeowner's exacting demands.
Not only is concrete functional, it lends itself to a wide variety of design options, which can make a dramatic difference in home landscaping plans, as well as enhance property values. In addition to the traditional look, concrete can have the decorative appearance, feel, and color of brick, tile, slate, or stone. Exposed aggregate is another popular finish. Many other design choices are available that can complement a variety of exterior treatments of the house.
Concrete driveways have long been known to give trouble-free service to homeowners. The reason is simple. Concrete is enduring with many driveways last for 30 years and longer without major maintenance. Just as with many high-quality purchases, concrete costs less in the long run.
From the street to the garage, a personally designed concrete driveway not only adds visual satisfaction, but also adds long lasting quality and value to your home as well.

Check out some of the concrete driveways constructed by Quantum Concrete or contact Justin to discuss your requirements today